Gardner Denver is a global manufacturer of industrial air compressors that has an extensive distribution network conveniently located, ready to serve our customers. Along with our wide range of industrial air compressors and dependable service, we understand that you are looking for comprehensive solutions and world-class manufacturing. Each compressor is meticulously researched, designed, and created by a world-class research and development team. We develop highly engineered products will enhance your production. We offer multiple industrial air compressor products across all applications to ensure our customers get the right product for their specific industry.
L-SERIES SCREW COMPRESSOR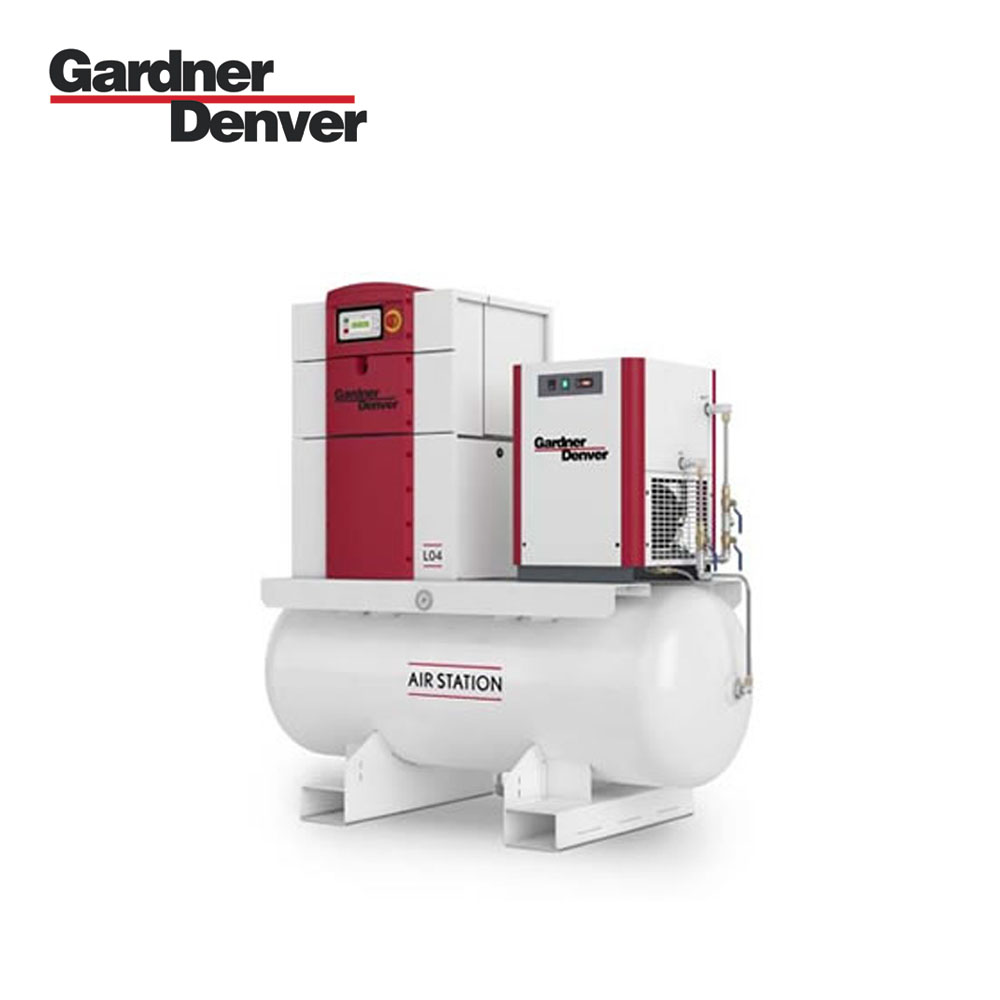 DESCRIPTION
A rotary screw air compressor that delivers outstanding performance with unprecedented serviceability is mandatory in many of today's industries. Gardner Denver's L Series line of fixed speed compressors uniquely combines simplicity with cutting edge design. The L Series rotary screw air compressor exceeds performance expectations, while maintaining high efficiency levels.
FEATURES
>> Belt drive, oil flooded, single stage rotary screw air compressor
>> AEON 4000 lubricant
>> Air-cooled only
>> Standard & optional condensate drains (with receiver tank selection)
>> CRN and ASME rated aftercooler
>> Two-stage air filter
>> Load/no load control and timed shutdown
>> Stainless steel piping (with receiver tank and mounted dryer)
DOWNLOAD DOCUMENT
LRS SERIES VARIABLE SPEED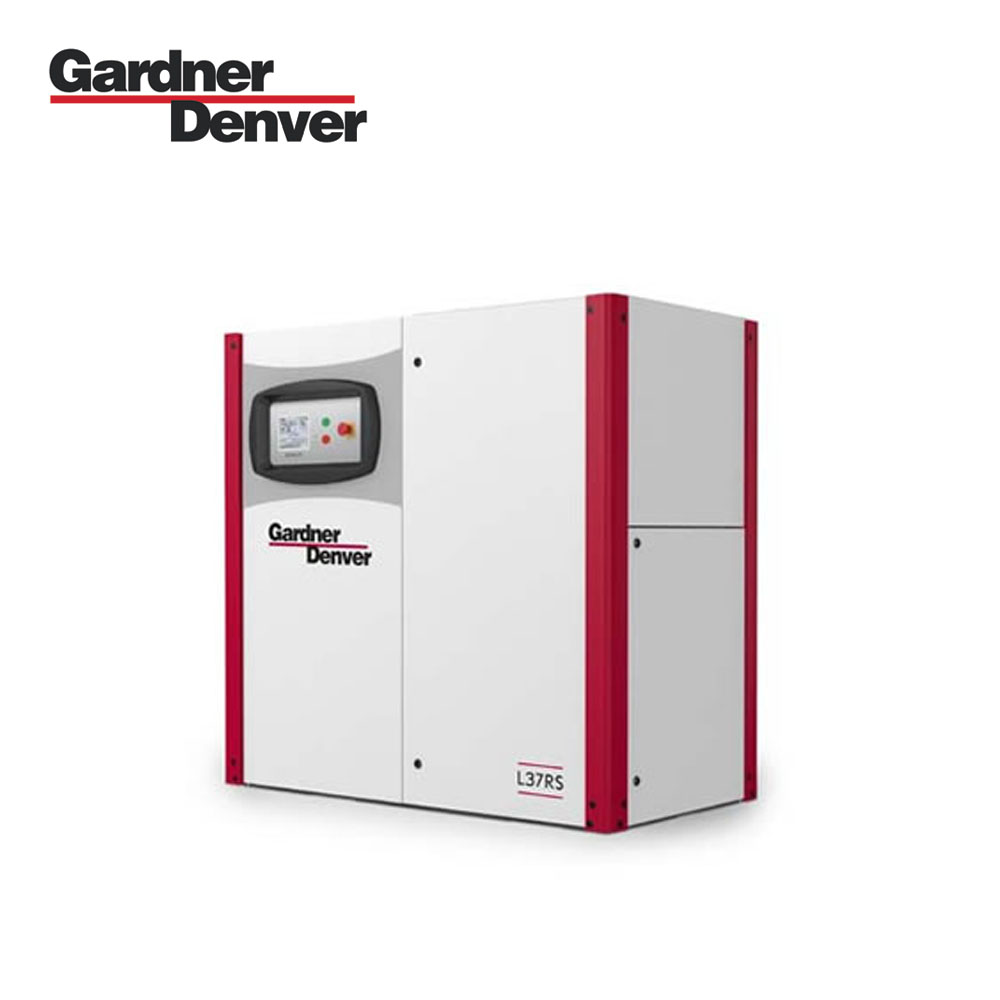 DESCRIPTION
The LRS Series product line by Gardner Denver features variable speed rotary screw air compressors, making them more versatile than most other products on the market. The product's robust inverter drive system precisely matches power consumption with air demand, providing world-class energy efficiency. Each Rotary screw air compressor is fully enclosed, preventing excessive noise from occurring on the job.
FEATURES
>> User-friendly navigation with state-of-the-art graphics and design
>> Machine status available on a 7-inch, full color touchscreen display
>> Detailed schematics at your fingertips
>> Advanced machine diagnostics
>> Programmable inputs and outputs
>> Auto restart after power failure
>> Real time clock
>> Second pressure setting
>> Color touch screen
DOWNLOAD DOCUMENT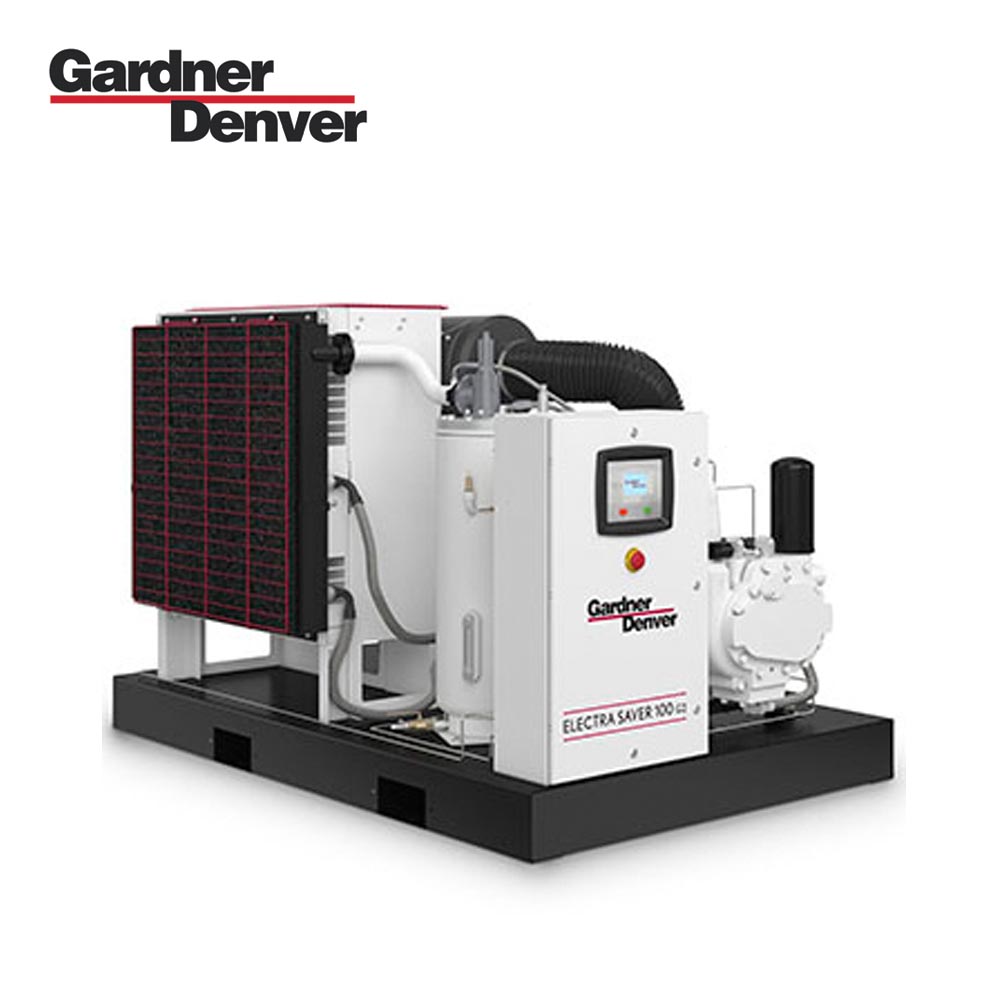 DESCRIPTION
Electra Saver G2 delivers substantial performance improvements, serviceability enhancements, and controller capabilities to an already proven and reliable compressor design. With infinite positions in an operating range of 40% to 100% capacity, compressor efficiency is maximized. This rotary screw compressor technology eliminates wide pressure fluctuations and massive storage requirements.
FEATURES
>> Air or water cooled
>> 1800rpm ODP and TEFC motor options
>> Stainless steel control lines
>> High performance direct-gear driven airend
>> NEMA 4 control enclosure
>> Wye-delta starter
>> AirSmart G2 microprocessor controller
>> Patented Turn Valve™ technology
DOWNLOAD DOCUMENT
ENVIROAIRE T SERIES OIL FREE AIR COMPRESSOR
DESCRIPTION
Choose oil-free and eliminate risk with the EnrivoAire T Series compressors. For many industries, air purity is a critical factor where even the smallest drop of oil risks contamination that can result in spoiled product, downtime, damaged equipment, and most importantly – damage to brand reputation. The risk is nullified when you invest in Gardner Denver oil-free air compressors.
FEATURES
>> Class 0 & Silicon Free Certified (air purity ISO 8573-1)
>> Premium Efficient TEFC IE3 main motor
>> Automatic motor greasing system
>> Automatic Zero Loss condensate drains
>> 2 stage airend with pulsation dampener/silencers as standard
>> Thermostatically controlled airend cooling to maintain near isothermal compression
>> GD Pilot TS touchscreen controller
>> Direct Drive via flexible coupling
>> 2 year package warranty
>> 5 year airend warranty
DOWNLOAD DOCUMENT
TWO-STAGE ULTIMA COMPRESSOR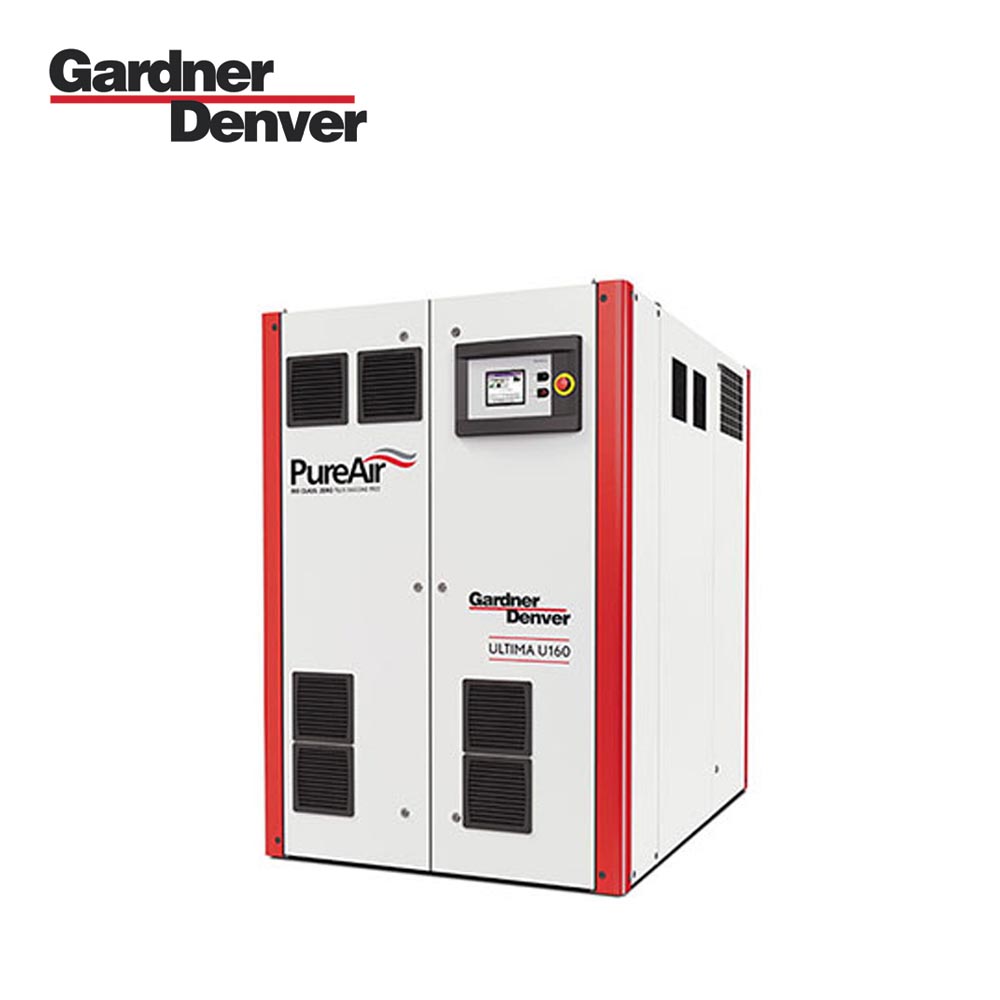 DESCRIPTION
This next gen oil free air compressor utilizes high efficiency low/high pressure dry screw airends. Each airend is individually driven by a motor that operates at 97% efficiency. The Ultima provides up to 70% turndown, delivers low off-load power consumption, while maintaining a 63-69 dBA noise performance. This oil free air compressor also provides superior heat recovery.
FEATURES
>> 100% silicone-free, guaranteed
>> Specifically designed for use in pure-air critical applications
>> Avoids contamination and provides the highest air quality standards
>> Independently tested and certified
>> Very efficient heat recovery
>> Easy installation
>> Low noise design
DOWNLOAD DOCUMENT
RECIPROCATING COMPRESSORS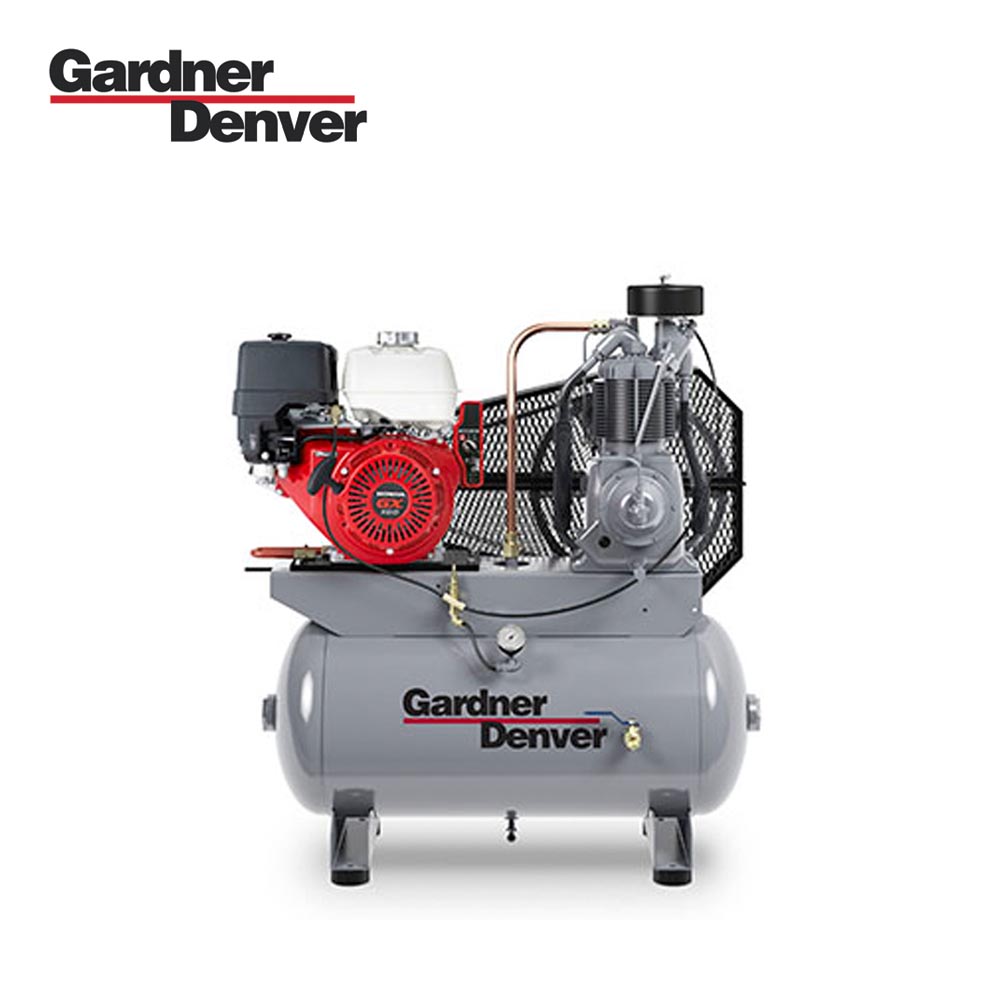 DESCRIPTION
Gardner Denver offers a complete line of engine driven reciprocating compressor packages from 9.1-22.5hp to meet any application. Engine driven industrial air compressors were designed to provide compressed air in remote locations and emergency production line needs. These industrial air compressors are two stage, powered by gas or diesel. Each reciprocating compressor was developed to be highly efficient and dependable.
FEATURES
>> ASME & CRN Certified 30, 60, 80 Gallon Horizontal Air Receivers
>> Belt Driven
>> Electric Start
>> Diesel Engine or Gas Engine Driven
>> Totally Enclosed Belt Guard
>> Oil Level Sight Glass
>> Heavy Duty Vibration Isolators for 30 Gallon Receiver
>> Electric Fuel Pump
>> Regulator and Line Oiler
DOWNLOAD DOCUMENT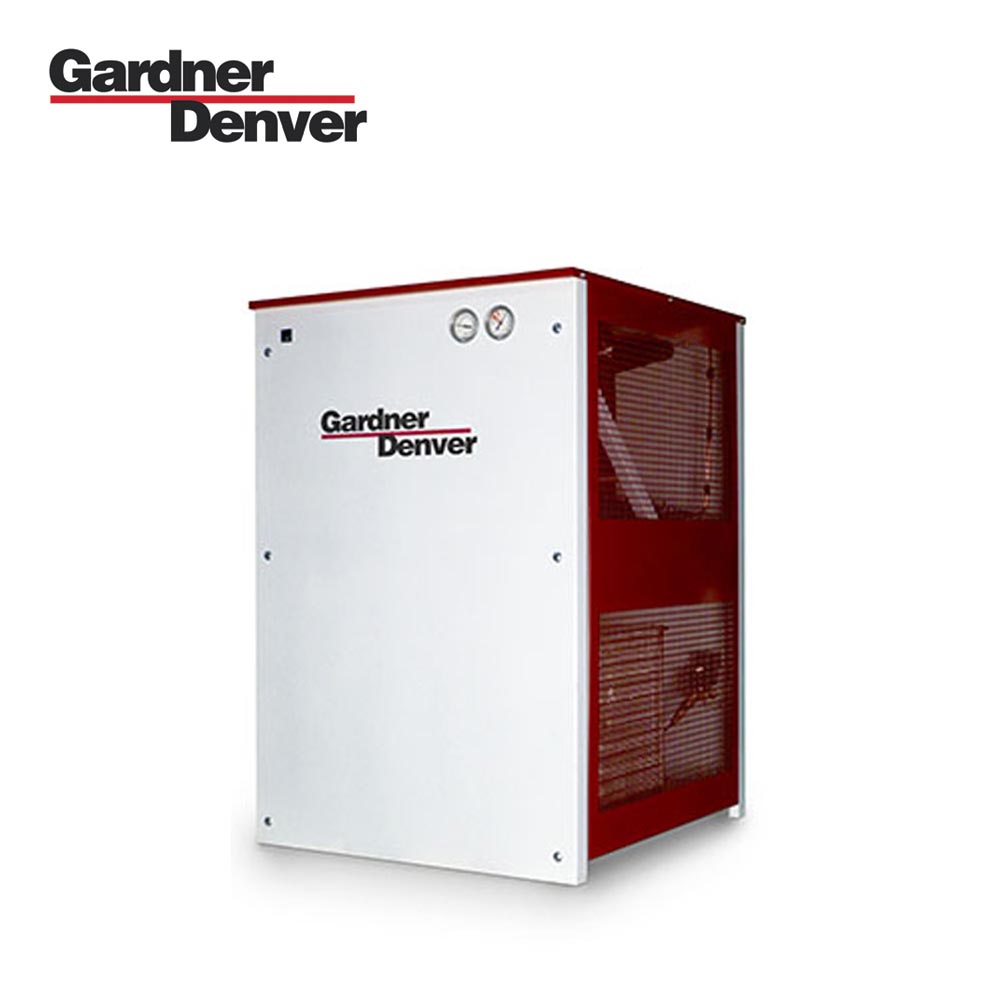 DESCRIPTION
Time, effort, and attention to detail is what went into the design of the GSRN refrigerated air dryer. The GSRN design has components, as well as the interconnecting tubing, laid out to minimize the environmental footprint of the dryer. When you implement this GSRN into your compressed air system, increased reliability and better efficiency will indefinitely result.
FEATURES
>> Flows from 10 to 2,250 CFM
>> Air-cooled and water-cooled packages
>> Voltage options to match your needs
>> Ambient condition, instrumentation, alarm, pressure and many more options available
>> American Made
DOWNLOAD DOCUMENT
RES SERIES REFRIGERATED DRYERS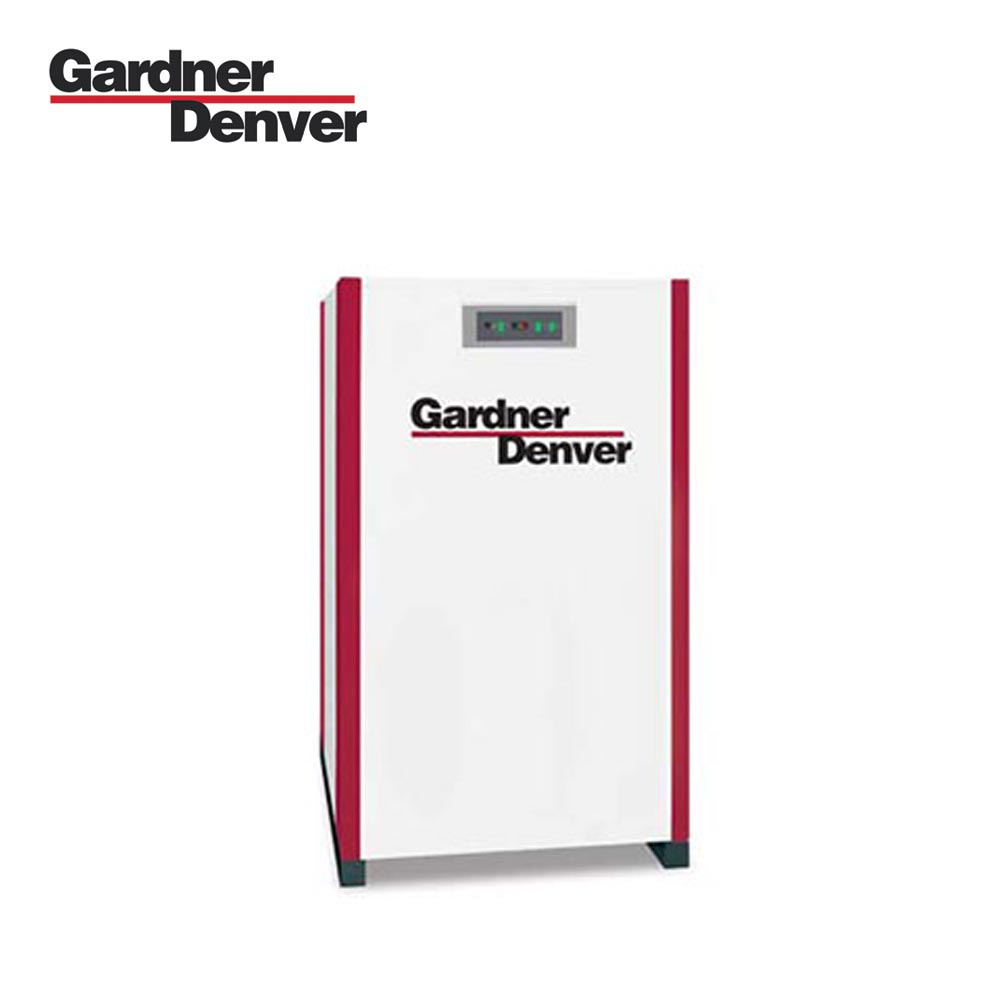 DESCRIPTION
The RES Series refrigerated dryer automatically cycles the refrigeration compressor on and off in response to inlet load conditions. As the inlet air load is reduced, the refrigeration compressor cycles off. This provides you the ability to reduce energy and costs with the RES series. The RES Series has an optimized cabinet design which promotes easy access from all four sides and the hermetically sealed refrigerant compressor provides high reliability and long service life.
FEATURES
>> 90 – 675 SCFM
>> Maximum Inlet Air Pressure: 250 PSIG
>> Maximum inlet Operating temperature: 130°F
>> No air loss condensate drains
>> Rebate eligibility
>> ISO 8573.1 air quality built in
DOWNLOAD DOCUMENT
GEHD SERIES DESICCANT AIR DRYER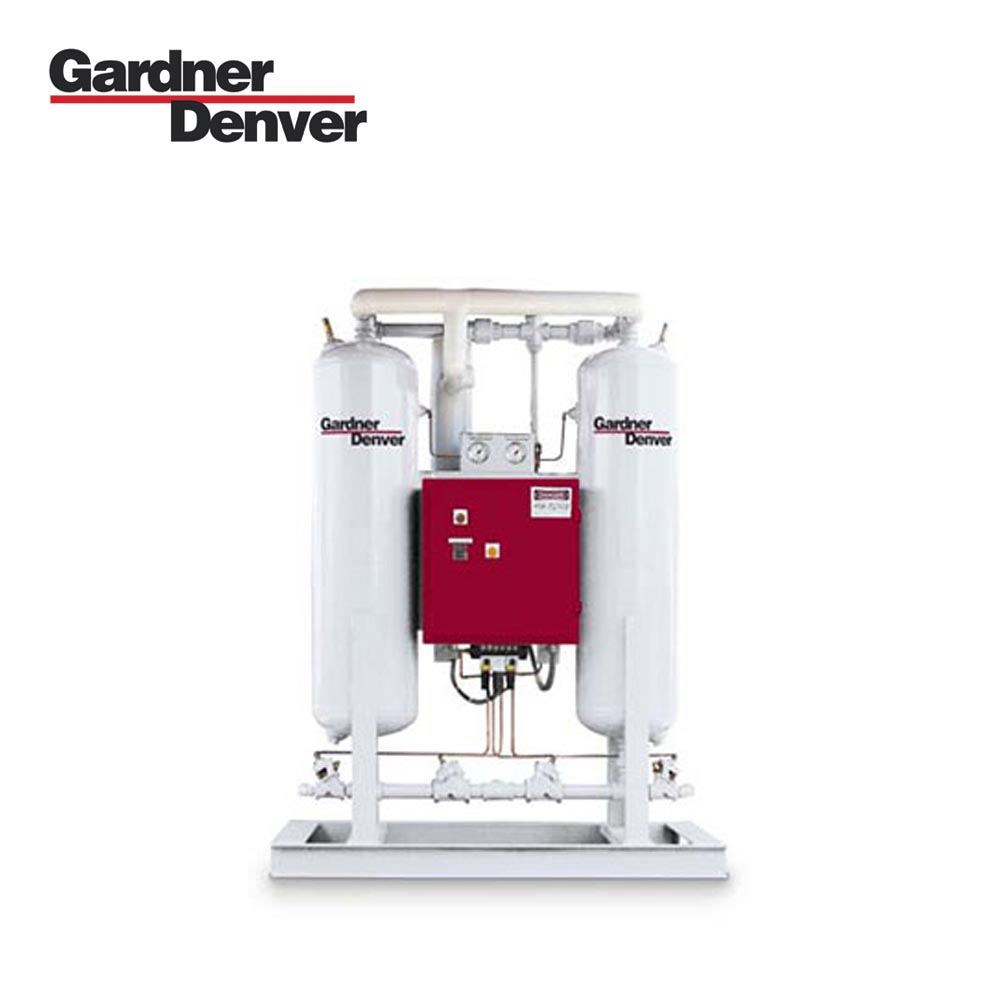 DESCRIPTION
This highly efficient unit has a simple design that minimizes its environmental footprint. The time, effort, and attention to detail that went into the design of this unit resulted in one of the most efficient units on the desiccant air dryer market. This American made product will be sure to enhance your production levels.
FEATURES
>> Flows from 100 to 4,000 CFM
>> NEMA 12 standard with NEMA 4, NEMA 4X and NEMA 7 options available
>> Pressure, dewpoint, instrumentation, alarm and many more options available
>> Simple design constructed with the best componentry
>> American Made
DOWNLOAD DOCUMENT