Capstone Green Energy Corporation is a leading provider of customized microgrid solutions and on-site energy technology systems focused on helping customers around the globe meet their carbon reduction, energy savings and resiliency goals. Capstone Green Energy focuses on four key business segments. Through its Energy as a Service (EaaS) business, it offers rental solutions for its microturbine energy systems and battery storage systems as well as aftermarket parts and comprehensive service contracts through a comprehensive Factory Protection Plan (FPP) product. Energy Conversion Products are driven by the company's industry-leading, highly efficient, low-emission, resilient microturbine energy systems offering scalable solutions in addition to a broad range of customer-tailored solutions, including hybrid energy systems and larger frame industrial turbines Baker Hughes. The Energy Storage Products segment designs and installs microgrid storage systems creating customized solutions using a combination of battery technologies and monitoring software. Through Hydrogen Energy Solutions, Capstone Green Energy offers customers a variety of hydrogen products, including the company's microturbine energy system. For more information, call 091-187-1111 or Add Line ID: @multiphasepower (available 24 hours a day)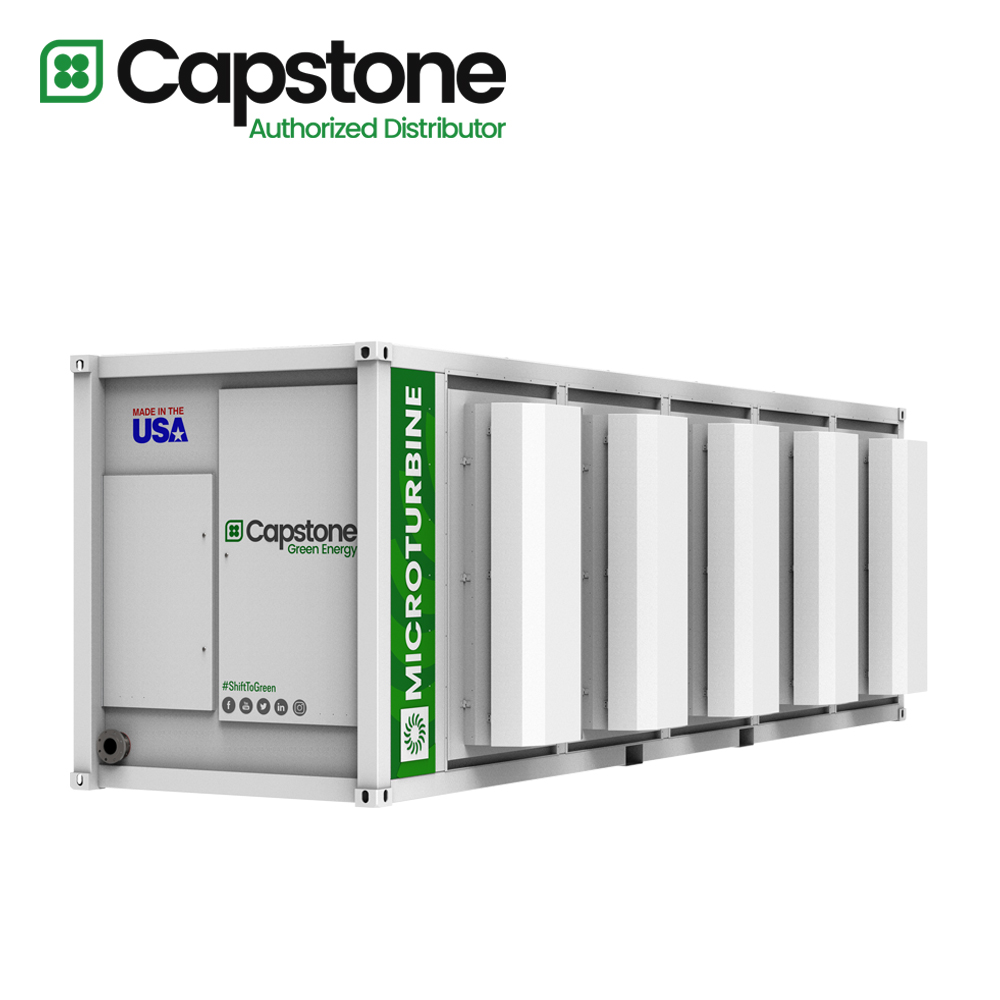 The C1000S provides up to 1 MW of electric power and contains five air bearing microturbines. The Signature Series Microturbine provides ultra-low emissions and reliable electrical/thermal generation from natural gas.
Capstone microturbines feature low maintenance air bearing technology, the lowest emissions of any non-catalyzed gas combustion engine, and digital power conversion to stand as the optimal power generation solution. The ability to operate on a wide variety of gaseous and liquid fuels makes our microturbines stand out as a robust source of clean power. Capstone microturbines can be installed individually or in a "multi-pack" configuration and function in parallel with or independently from the local power grid. Our microturbines are compact, quiet and lightweight and provide reliable energy when and where it's needed.
>> Air Cooled Design
No cooling system maintenance or coolant disposal issues
>> Oxygen Rich Exhaust
Less than 5ppm NOx
>> Quiet Operation
65 dB at 10 meters
>> Multi-Fuel Capability
Adaptable to Gaseous and Liquid Fuels
>> UL-Certified
UL-Certified ISO 9001:2015 and ISO 14001:2015
>> Modular Design
Permits scalability
>> Remote Monitoring
Complete view of performance at all times