Van Air Systems designs and manufactures dryers and desiccants for dehydration of compressed air and natural gas. Since the company's founding in 1944, the employees of Van Air Systems have proudly built a reputation for innovation, quality, and superior customer service. Van Air Systems' compressed air dryers include single tower deliquescent dryers, regenerative compressed air dryers, and natural gas dryers. Van Air Systems also manufacturers products for the treatment of compressed air and natural gas which include adsorbent & deliquescent desiccants, particulate & coalescing filters, automatic condensate drains, and after-coolers. Having served for more than six decades and tens of thousands of customers in virtually every industry, Van Air Systems and its extensive network of factory-trained distributors are uniquely prepared to deliver the world's finest solutions for cool, clean, and dry compressed air and gas.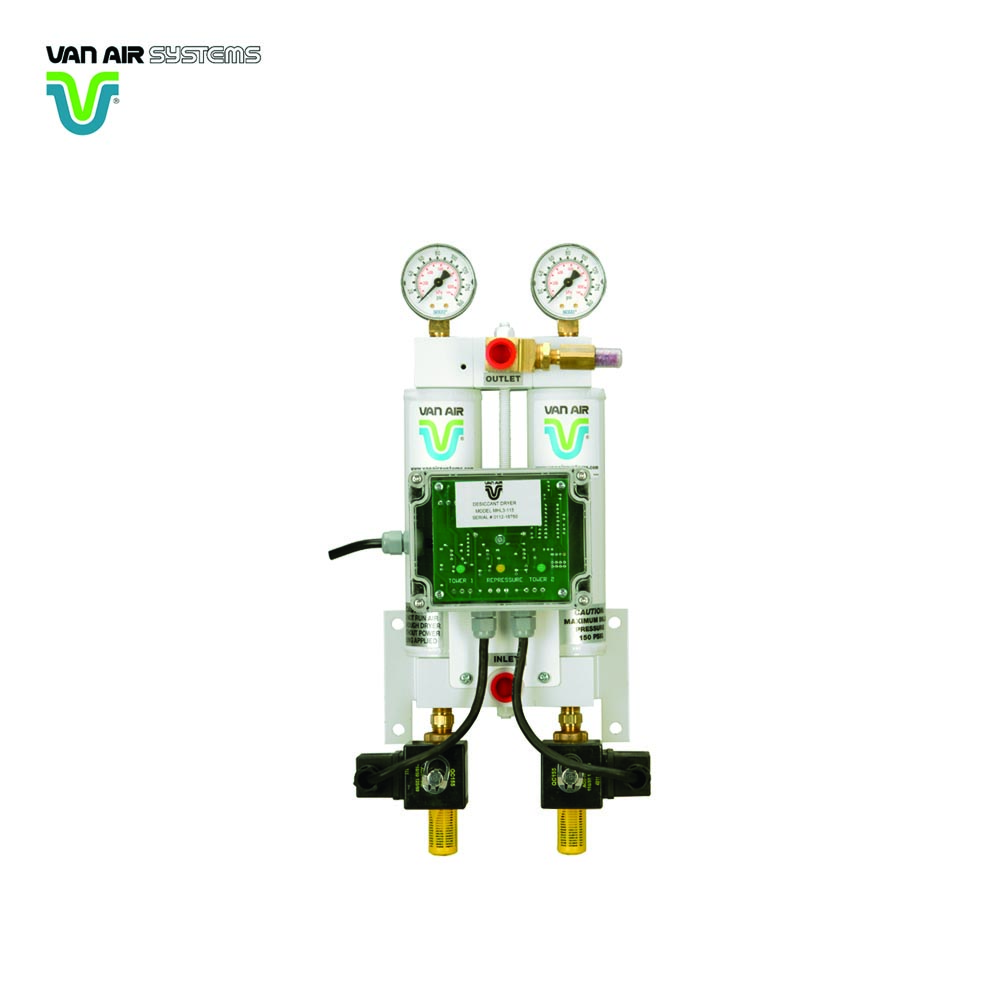 DESCRIPTION
MHL-3 through MHL-50 are compact, simple to install, and easy to maintain. These dryers deliver a -40°F pressure dew point to protect pneumatic equipment and processes from the harmful and costly effects of moisture. When treating small volumes of compressed air, an MHL series heatless regenerative desiccant compressed air dryer can deliver dew points down to -100°F in critical applications. Clean and dry compressed air keeps the most vital pneumatic equipment and processes operating smoothly and efficiently.
FEATURES & BENEFITS
>> 3-50 SCFM
>> Automatic Controller
>> Solid state timer with LED status indicator lights for visual monitoring
>> NEMA 4 electrical rating is standard (NEMA 4 optional)
>> Easily serviceable components
>> Low air velocity through the desiccant bed for efficient drying
DOWNLOAD DOCUMENT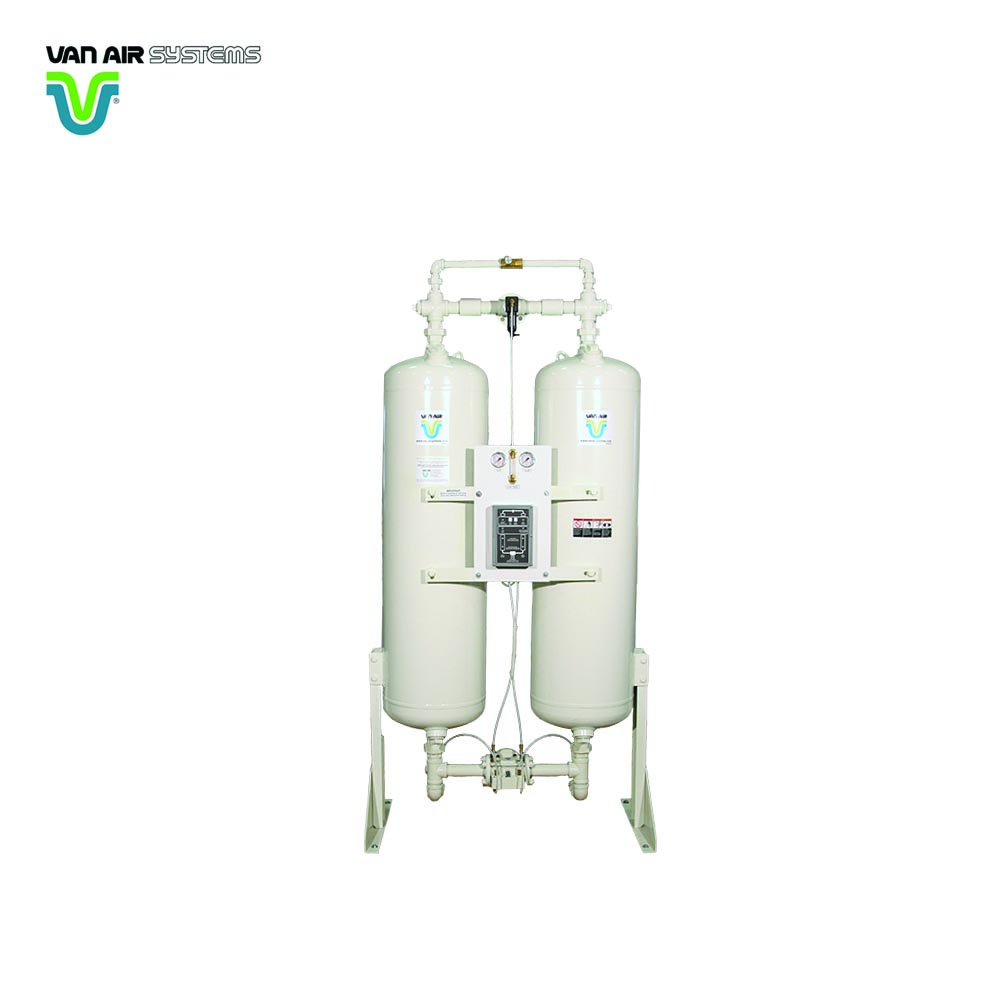 DESCRIPTION
Engineered for long service life and superior protection of your air-operated equipment and processes, Van Air Systems HL series heatless regenerative desiccant compressed air dryers deliver the peace of mind of high quality, value and fast delivery. All HL series compressed air dryers include patented Interlock Logic valve sequencing to protect compressed air systems from premature loss of flow or pressure. Interlock Logic guarantees that each phase of the drying cycle is completed before the next can begin. This ensures uninterrupted air flow at constant pressure for downstream equipment and prevents accidental vessel re-pressurization, a vital safety feature.
FEATURES & BENEFITS
>> 200-2000 SCFM
>> Interlock logic 3-way transfer valve
>> Solid state timer with LED status indicator lights for visual monitoring
>> -40°F to -100°F pressure dew point
>> ASME code stamped vessels
>> Standard touch pad controller
DOWNLOAD DOCUMENT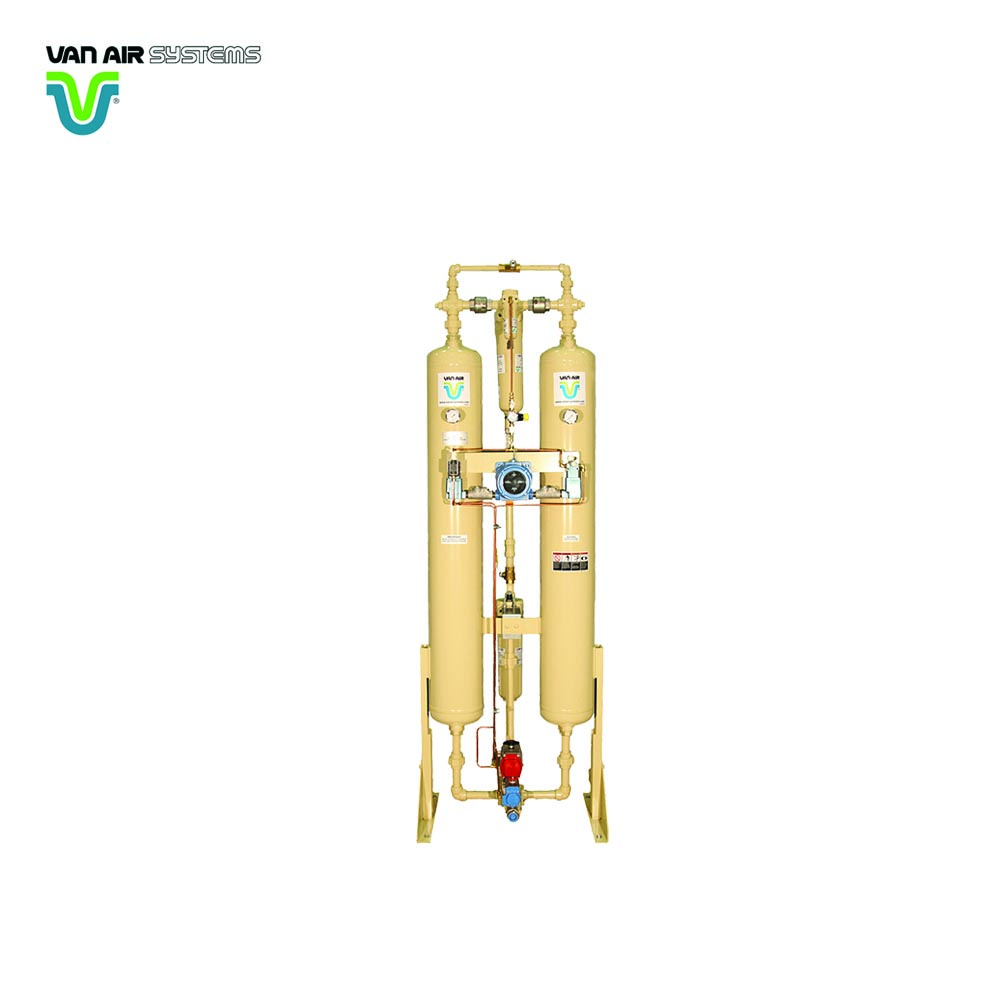 DESCRIPTION
HLSXA dryers remove water vapor from saturated compressed air through the process of pressure swing adsorption. Each dryer consists of two desiccant columns. While one column is on-line drying compressed air, the other column is regenerated using a portion of depressurized purge air. The flow of process and purge air is automatically and continuously switched between the two desiccant columns by an integrated timer. Pressure dew points of -40 degrees or lower can be achieved with a properly sized HLXA dryer. HLSXA dryers meet the limits of moisture content in compressed air, as defined by the International Society for Automation (ISA) publication 7.0.1 – 1996.
FEATURES & BENEFITS
>> 55-800 SCFM at 100 PSIG
>> -40°F pressure dew point
>> Explosion proof controls, Class 1 Division 1 Groups C&D NEMA 4/7
>> 250 PSID maximum working pressure
>> Power supply 115V-1PH-60HZ or 12 V DV
>> Small footprint for convenient installation
DOWNLOAD DOCUMENT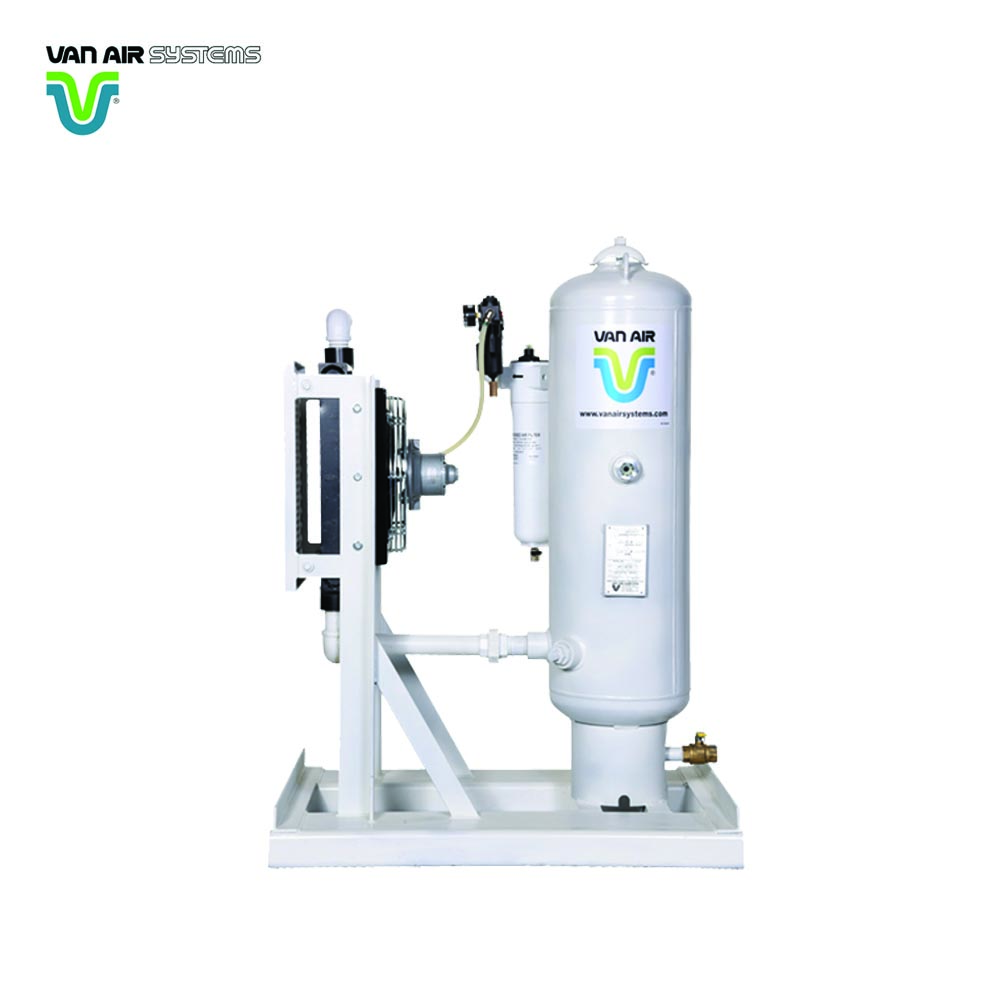 DESCRIPTION
The Dry Pak PRO is a portable compressed air system designed for flows up to 185 SCFM. With no power requirements this system can be used virtually anywhere. This portable skid mounted system consists of a D12 Deliquescent Dryer, F200-265 Filter, aftercooler with air motor, rock guard, and a regulator lubricator. The DryPak 150 is a low cost portable air drying system is perfect for small jobs where portability and dry air matter.
FEATURES & BENEFITS
>> 50 ft. power cord with clamps
>> 2 prong (2P) and 4 prong (4P) hose couplings are included
>> Ideal for portable 185 CFM diesel compressors
>> Includes a handle and protective cord wrap
DOWNLOAD DOCUMENT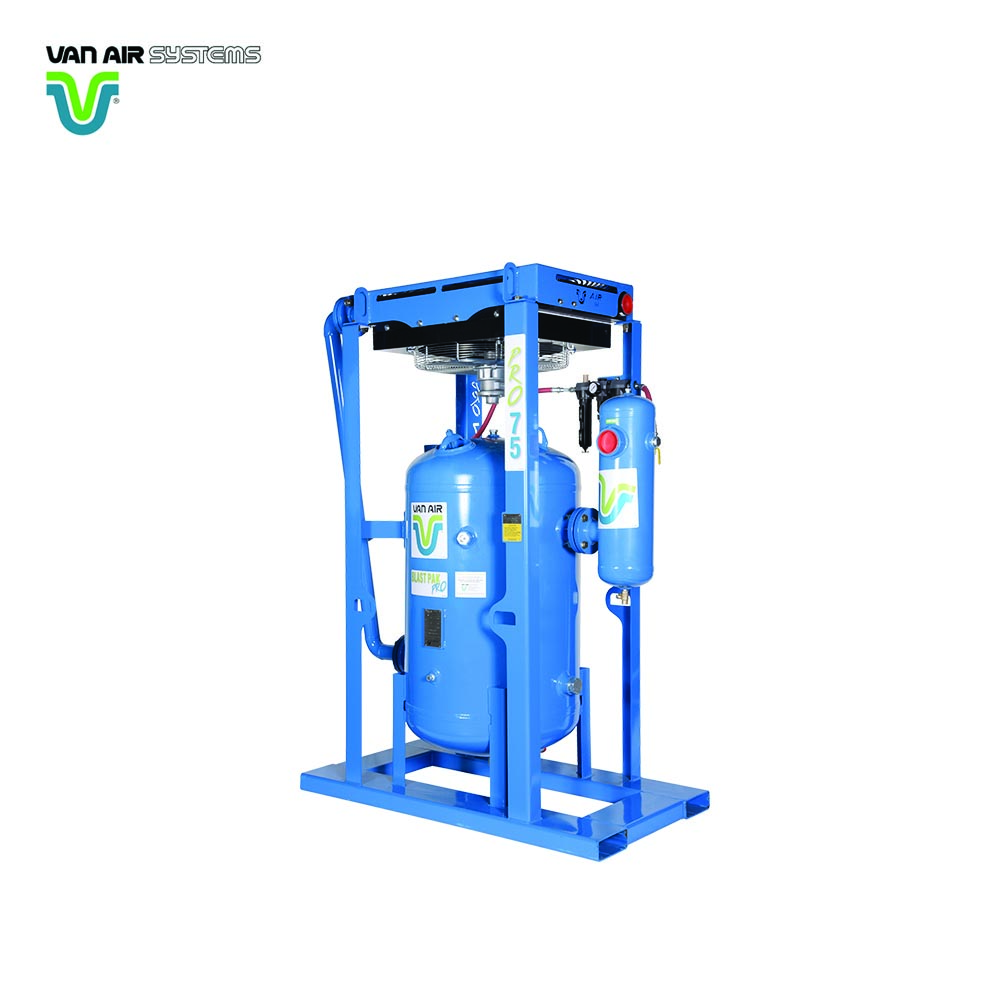 DESCRIPTION
The Blast Pak PRO compressed air system, is a single tower deliquescent drying package with conveniently integrated peripherals that are pre-assembled and welded to a forklift skid, allowing maximum portability for mobile drying applications. These compressed air systems can be easily lifted on the back of a truck or trailer and moved about within a plant or worksite. The Blast Pak PRO is an ideal solution for mobile blasting contractors. Wet compressed air clogs blasting pots and compromises the quality of the blasted substrate by putting moisture back on the surface. This moisture then flashes to rust, necessitating costly re-work.
FEATURES & BENEFITS
>> No electricity required, plug-n-play design
>> Two step interior and exterior paint for longer vessel life
>> F200 filter and muffler to eliminate oil residue from air motor
>> Removable aftercooler assembly for ease of repair / replacement
>> 3/4″ Auxiliary air connection before the dryer
>> Lifting lugs and steel forklift skid for portability
>> Tie downs to secure units for transportation
>> Two sight windows for desiccant viewing
>> Free initial fill of DRY-O-LITE desiccant included and shipped separately
>> 15 years prorated warranty on Dryer Pressure vessel (1st 5 years Full 100% warranty)
DOWNLOAD DOCUMENT
SINGLE TOWER DELIQUESCENT DRYERS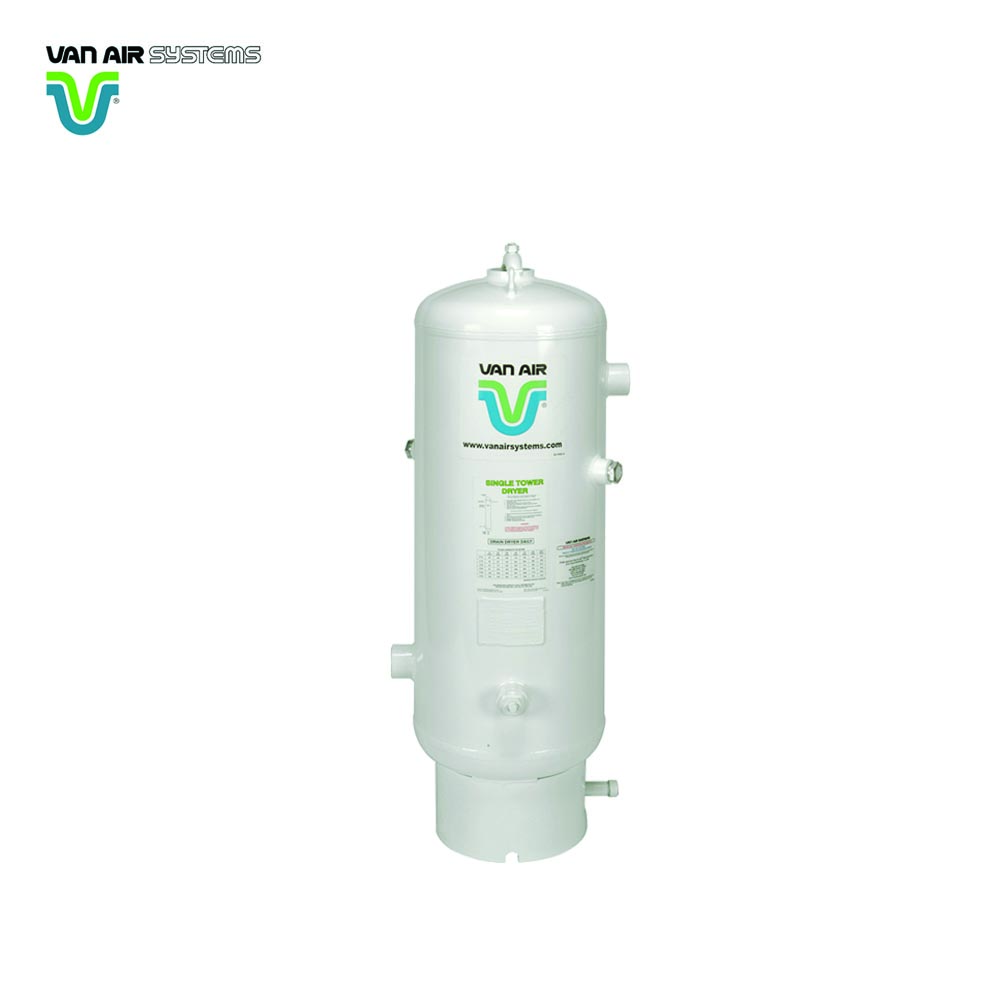 DESCRIPTION
Van Air Systems D-Series Compressed Air Dryers are single tower deliquescent compressed air dryers for stationary applications. D-Series Dryers remove harmful water vapor from compressed air lines. Wet compressed air enters the bottom of the dryer and flows upward through a bed of deliquescent desiccant, which absorbs moisture as it slowly dissolves. Condensate drops to the bottom of the vessel to be drained. Dry compressed air exits the top of the vessel. When used with Dry-O-Lite desiccant, the D-Series Compressed Air Dryer automatically provides a dew point that is approximately 20°F lower than temperature of the air at the vessel inlet.
FEATURES & BENEFITS
>> Low Cost
>> No power required and no moving parts
>> 10 year vessel warranty
>> 20°F to 63°F dew point suppression
>> Prevent air line freeze-ups
DOWNLOAD DOCUMENT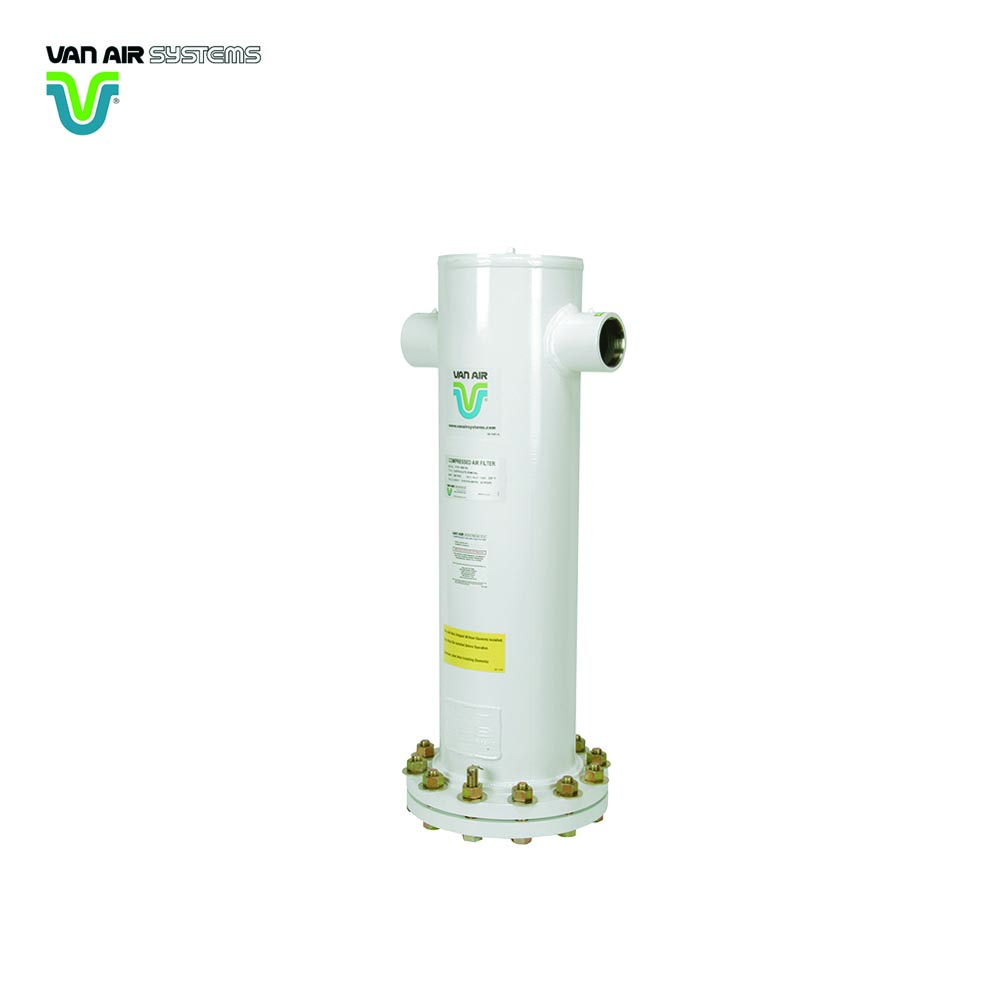 DESCRIPTION
Van Air Systems' F101 series coalescing and particulate filters are designed to remove contaminants from compressed air systems. Available in 2″ NPT to 6″ flange connection sizes and flow capacities up to 5000 scfm at 100 psig in 6 housings and 10 filtration grades, the F101 series removes oil aerosols, oil vapors, condensed water, and particulates. Housings are constructed of welded steel, built and stamped in accordance with the ASME code. Accessories include differential pressure indicators and automatic drain valves.
FEATURES & BENEFITS
>> Flows up to 5000 scfm at 100 PSIG
>> Standard vessel maximum working pressure, 250 PSIG at 225°F
>> Vessels with maximum working pressures up to 1440 PSIG available
>> ASME welded steel design
>> Push-on element for quick servicing
>> Large reservoirs facilitate draining of coalesced water and liquids
>> 10 filter element grades, 25 micron – .01 micron
>> Remove oil aerosols, oil vapors, liquids, and sub-micron particles
>> Long-lasting elements reduce maintenance costs
DOWNLOAD DOCUMENT
DESCRIPTION
Whether you need the simplicity of a basic valve or the flexibility of added features, the MDV Series is your solution. Choose from two models, plus different options and accessories to fit the level of adjustment and controls you need. For the most dependable draining, install the Van Air Systems MDV Series motorized ball valve. The MDV's heavy-duty ball valve can manage virtually any fluid in a wide variety of applications. Depend on it for nearly any fluid service.
FEATURES & BENEFITS
>> Adjustable timers
>> Powerful motor
>> Full ported ball valve
>> Control by either a timer or float switch
DOWNLOAD DOCUMENT