Williams Instrument Company, Inc. was established in 1965 as a supplier of specialized equipment to the USA natural gas distribution industry. Williams revolutionized the natural gas distribution industry by developing a method for the positive injection of mercaptans, chemicals for introducing odor into natural gas. Prior to the use of positive injection, the gas industry used the inaccurate bypass method of odorizing natural gas. The Williams' design approach, which introduced precision, increased safety in an industry that requires a very high level of safety because the public is a customer. Williams is currently the leading supplier of pneumatically-driven metering pumps for the global oil & gas industry. Our metering pumps and related products have become a standard with most of the world's oil & gas companies. Our products are sold in approximately forty countries. Williams' unique designs offer a combination of reliability and simplicity. Both features translate into cost savings for our customers.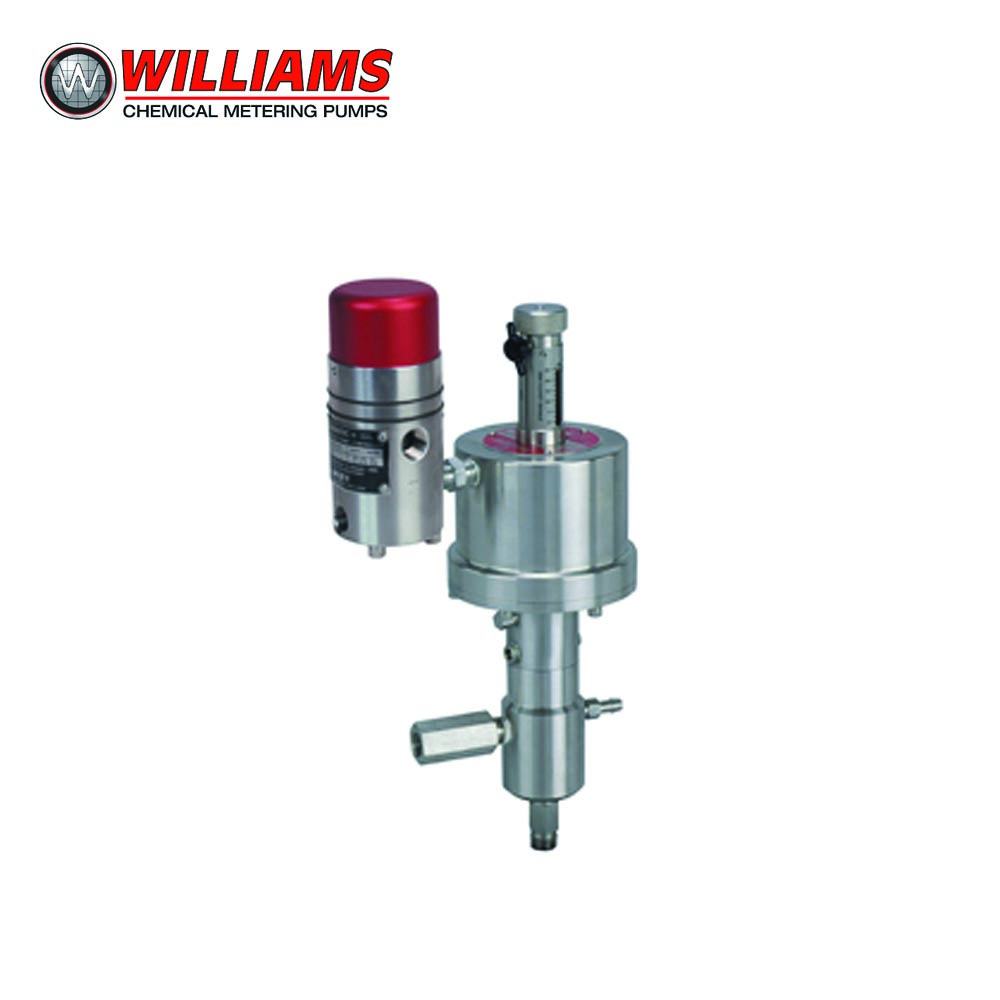 DESCRIPTION
The "V" Series pump is a range of compact, self-contained, pneumatic metering pumps suitable for injecting a wide variety of chemicals. The "V" Series pump is a range of compact, self-contained, pneumatic metering plunger pumps offering redundant mechanical seals. It is suitable for injecting a wide variety of chemicals that range from 0.07 gph to 9 gph (0.27 lph to 34 lph) and pressures up to 13,100 psig (903 barg).
FEATURES
>> Pneumatic operation
>> Corrosion resistant
>> High-flow turndown
>> Greater reliability
>> Simple maintenance
>> Ease of installation
>> Intrinsically safe
>> Flows up to 9 gph (35 lph)
>> Discharge pressure 13,100 psi (903 bar)
>> Manual mode or automatic with solenoid valve
DOWNLOAD DOCUMENT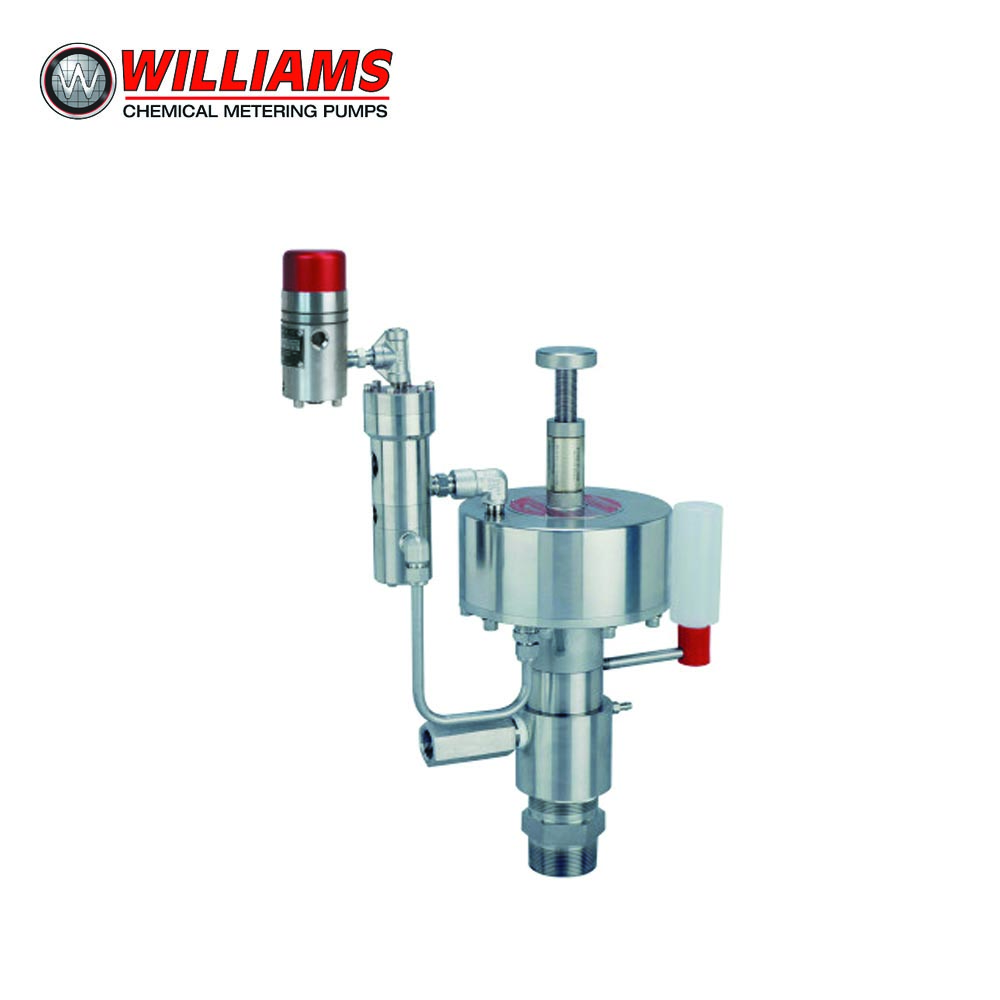 DESCRIPTION
The Williams "W" Series Plunger Pumps offer a packed plunger design. The Williams "W' Series is a piston plunger pump with a mechanical seal. It is capable of precisely injecting chemical into a wide variety of process applications. Whether you need to inject a catalyst in a reactor for a refinery or high volume batch dosage treatments offshore such as biocides for water and fuel treatments. The "W" Series pump can deliver up to 90 gph (336 liters per hour at pressures up to 2500 psig (172 barg).
FEATURES
>> Flow rates from 9 to 90 gph (34 to 336 lph)
>> Discharge pressures to 3450 psi (238 bar)
>> 100:1 turndown ratio
>> Variety of seal and plunger materials available
>> Dual acting pneumatic relay used to cycle pump
>> Pneumatic pumps are often the choice for FPSO (floating, production, storage, and operating vessel due to limited space and electrical power)
DOWNLOAD DOCUMENT
WILROY SERIES HYDRAULIC DIAPHRAGM PUMP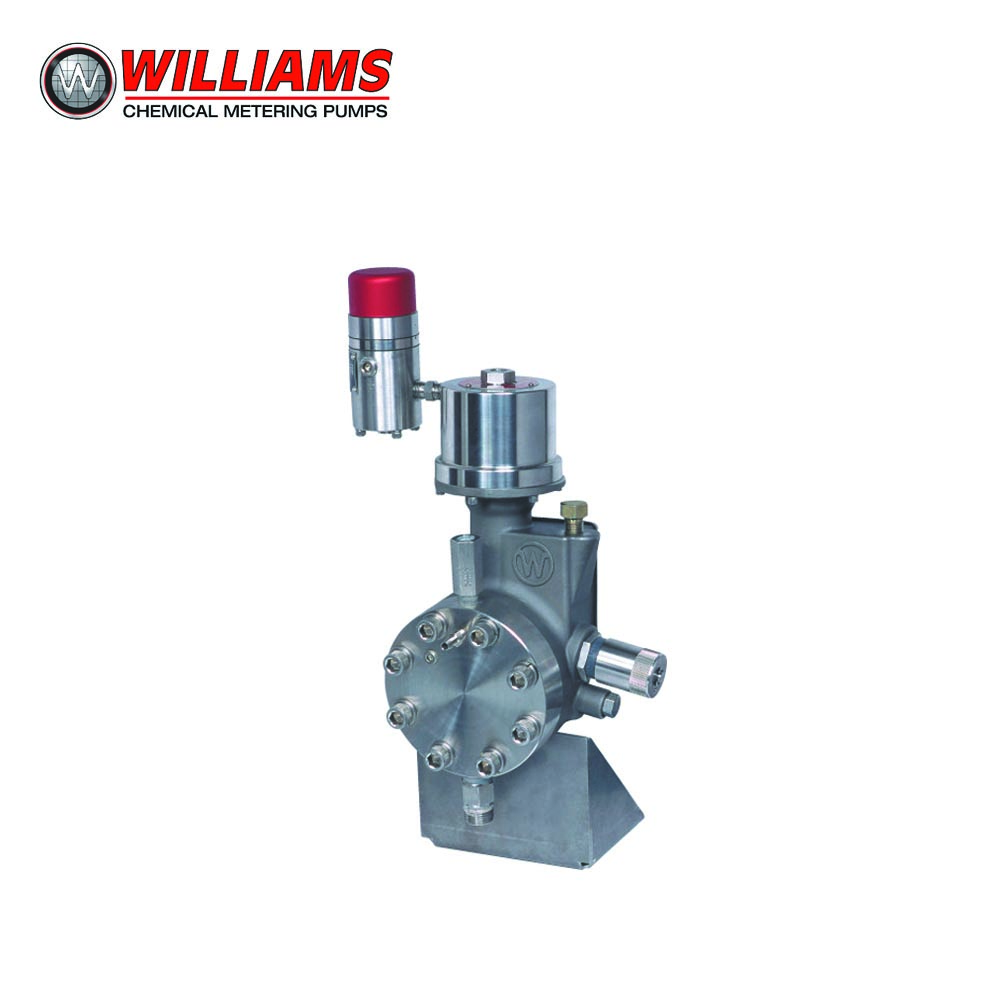 DESCRIPTION
The WILROY metering pump is a unique blend of Williams and Milton Roy pump technology. The WILROY is a pneumatic-hydraulically actuated diaphragm pump designed for high pressure chemical injection used in applications where the media needs to be isolated by a TFE diaphragm. Can be used for a variety of high-pressure process applications.
FEATURES
>> Gylon® diaphragm offers a wide range of compatibility
>> Cartridge Design Approach
>> Displacement is adjusted by a Hydraulic Bypass Design
>> Pressure capabilities to 3000 PSI (207 BARG)
>> Flow rates from 0.035 gal/hr (0.1325 liters/hr) to 7.8 gal/hr (29.5 liters/hr)
>> Five sizes in two housing makes it field reconfigurable
>> Pneumatic controller, piston plunger and housing, and relay common with V-Series
>> Maintenance Free Sealed Hydraulic system
>> Double Diaphragm Leak-Detection Options
DOWNLOAD DOCUMENT
CLD LOW PRESSURE DIAPHRAGM PUMP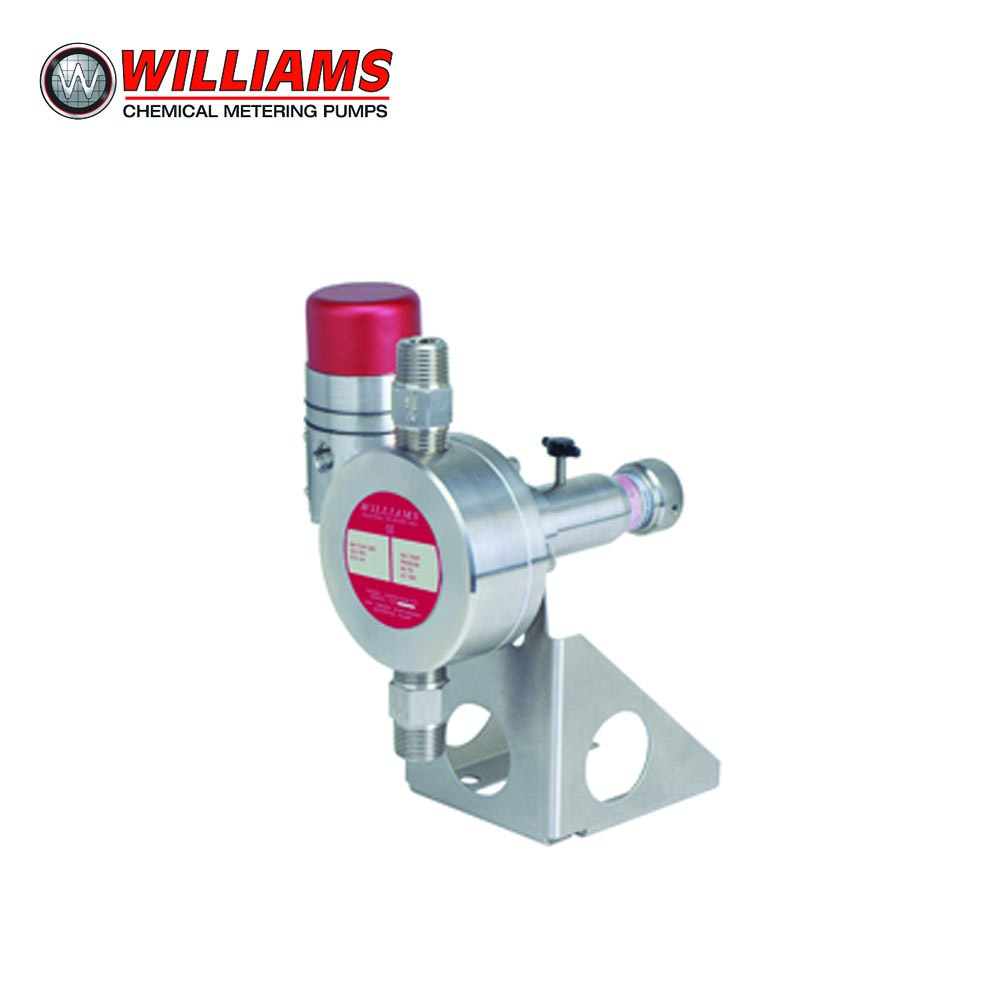 DESCRIPTION
The CLD Pneumatic diaphragm metering pump consists of a liquid chamber and an air chamber separated by a diaphragm. The CLD is a pneumatic driven low-pressure diaphragm metering pump designed for use in low pressure chemical injection applications such cooling towers and low-pressure processes where isolation of the chemical is required.
FEATURES
>> Simple design
>> Easy to maintain
>> Intrinsic safety of pneumatic operation
>> Stroke length and stroke rate adjustment
>> High-flow turndown
>> Corrosion resistant construction
>> All 316 SS or TFE wetted parts
>> Ease of installation
DOWNLOAD DOCUMENT