To solve your toughest challenges, we do things differently, creatively, and smarter. As your trusted partner, our unmatched experience and truly innovative portfolio of technologies and solutions give us the flexibility to adapt and evolve, regardless of market conditions. We provide engineered services and products primarily to the offshore energy industry. Today, we also use applied technology expertise to serve the defense, entertainment, material handling, aerospace, science, and renewable energy industries.
B-CON – MISALIGNMENT BALL CONNECTOR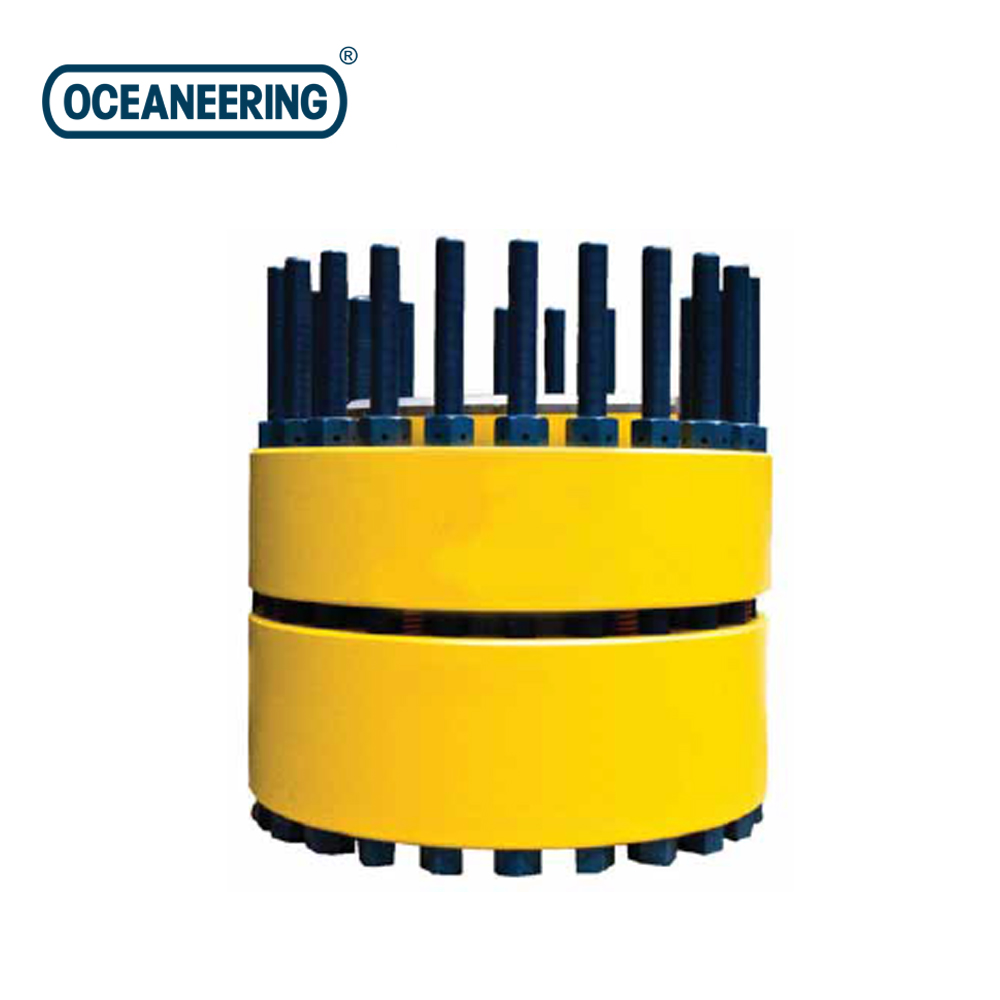 DESCRIPTION
The B-CON is designed for piping and pipeline systems where the connector must compensate for misalignment of the pipe. The B-CON significantly reduces the time required to install subsea pipeline connections by providing a leak tight metal seal with performance characteristics and versatility that exceed those of welded pipe or conventional flanges. While primarily intended for subsea piping operations, the B-CON is a valuable piece of equipment in any application (above or below water) where misalignment of the pipeline is a problem.
FEATURES
>> Metal-to-metal seal allows +/-10º of misalignment
>> Meets all applicable codes and standards
>> Sizes range from 4 in to 24 in (NPS)
DESIGN PARAMETERS
>> Nominal pipe size (NPS): any API Specification 5L pipe, wall thickness, and grade
>> Service: Standard (i.e. crude oil, natural gas, hydrocarbons, water or chemical injection, etc.) and sour (i.e. hydrogen sulfide, carbon dioxide, etc.)
>> Design pressure rating and applicable dimensions: per ASME, MSS, or API
>> Design temperature range: 25 °F to 250 °F (-4 °C to 121 °C)
DOWNLOAD DOCUMENT
DIVERLESS SMART CLAMP – PERMANENT PIPELINE REPAIR CLAMP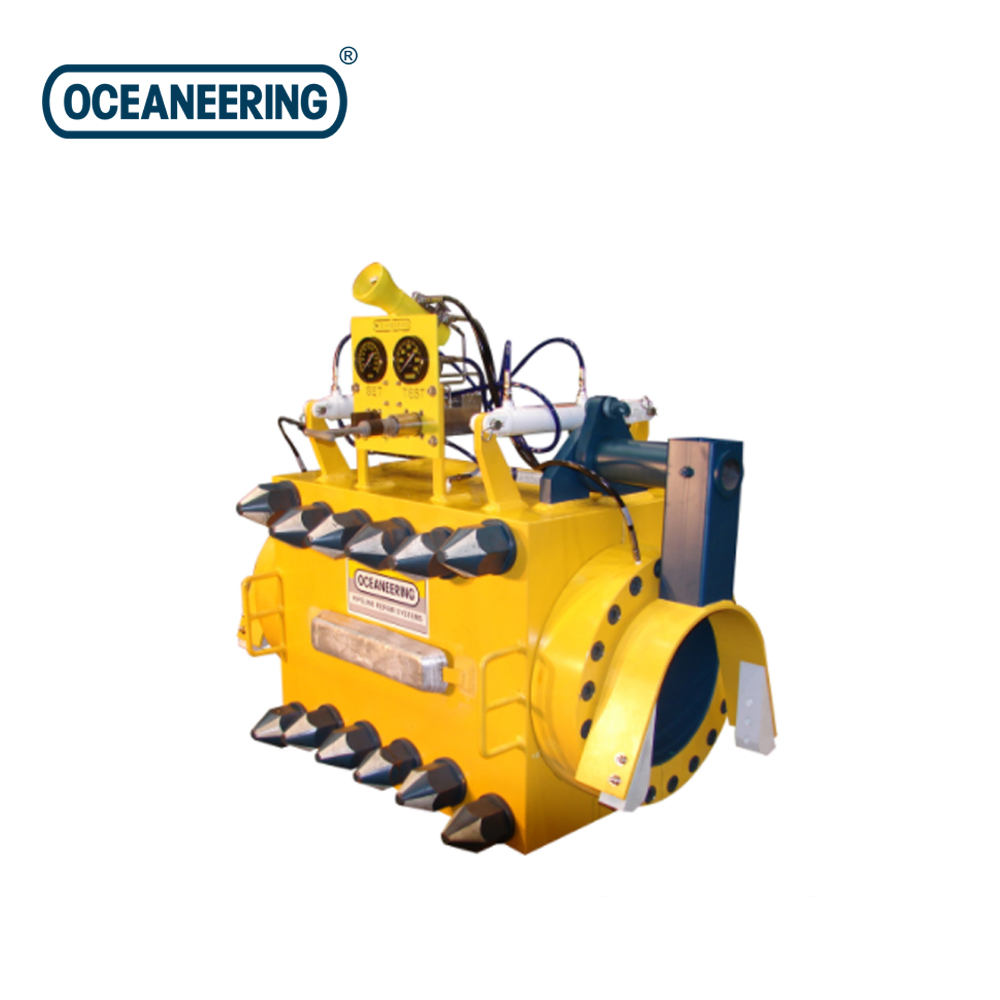 DESCRIPTION
The Diverless Smart Clamp is a split mechanical / hydraulic fitting used to repair a damaged or leaking subsea pipeline. The fitting eliminates costly pipeline shut downs and offers an alternative to hyperbaric welding repair methods. The fitting, available in structural and non-structural versions, provides pressure containment to the pipeline within the encapsulated area. The non-structural version may be used to repair a pipeline that is structurally sound and has only minor damage such as pinhole leaks, local pipe wall thinning or shallow dents. The structural version, utilizing a grip and bowl mechanism, replaces structural integrity in more severely damaged pipelines with cracked girth welds, kinks, or punctures.
DESIGN PARAMETERS
>> Nominal Pipe Size (NPS): any API Specification 5L pipe and wall thickness
>> Service: Standard (i.e. crude oil, natural gas, hydrocarbons, water or chemical injection, etc.) and Sour (i.e. hydrogen sulfide, carbon dioxide, etc.)
>> Design Pressure Rating: up to ANSI Class 2500
>> Hydrostatic Test Pressure (min): 1.5 times Design Pressure Rating rounded up to nearest 25 psig
>> Hydrostatic Test Duration (min): 4-hrs Design Temperature Range: 25ºF (-4 ºC) to 250 ºF (121 ºC)
>> Water Depth (max): 10,000 fsw
>> Design Life: 25 years
>> Length Between tension Grips: the greater of 12" or 1-nominal pipe diameter
>> Internal Diameter at Center of Clamp: design standard is pipe outside diameter + 1.625"
>> Hydraulic Cylinder Pressure (max): 2500 psig (172 barg)
>> Hydraulic Actuator Flange Pressure (max): 10,000 psig (690 barg)
DOWNLOAD DOCUMENT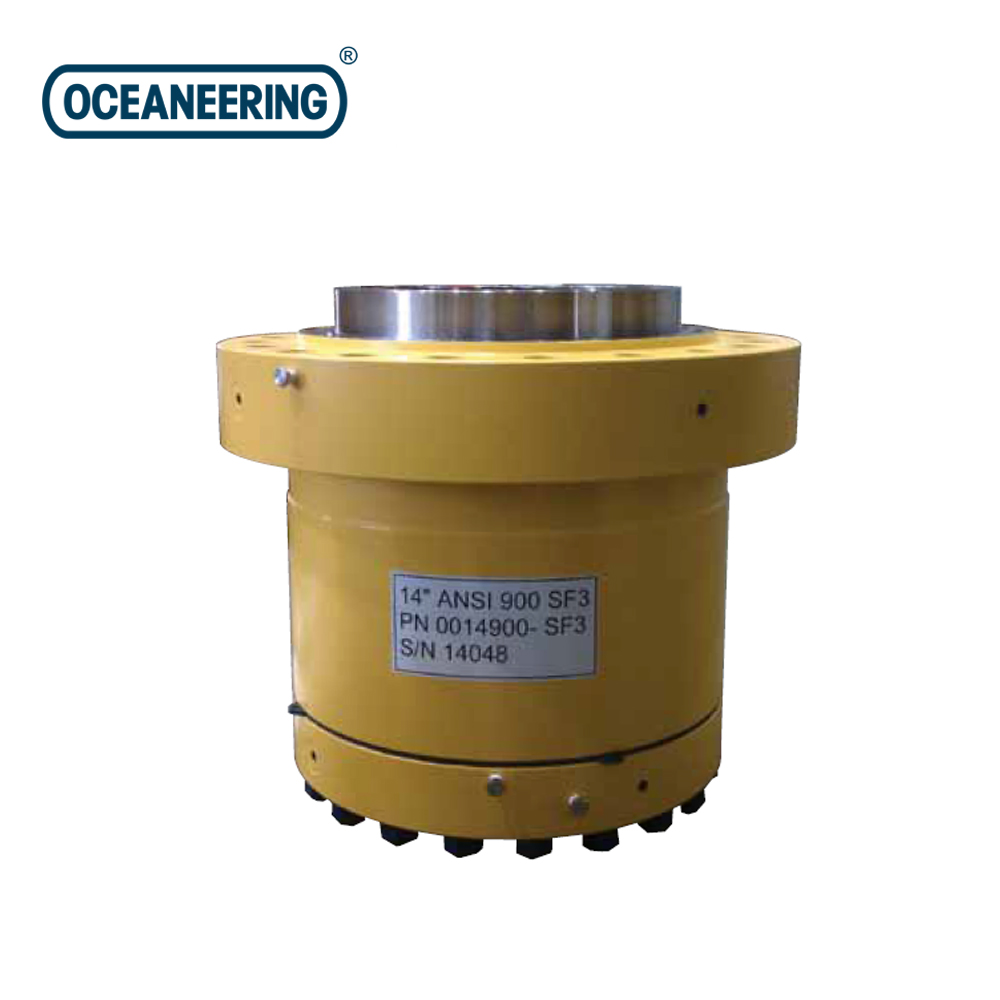 DESCRIPTION
Permanent subsea pipeline repairs are easier, safer and take less time with Smart Flange 3 Connectors. The product offers pipeline and riser repairs without the need for hyperbaric welding and can be installed in diverless applications. Available worldwide, the end connectors are stocked in a variety of sizes to accommodate from 2 inch up to 24 inch pipeline diameters. End connectors up to 48 inches have been delivered and installed. The Smart Flange 3 Connectors can be installed by commercial divers as well as by utilizing Oceaneering's Atmospheric Diving Systems (ADS). Hydraulic Smart Flange Connectors are installed by Remotely Operated Vehicles (ROVs). No other special equipment or trained personnel is required.
FEATURES
>> Fully Testable Pipe End Connector
>> 100% Reversible Grips
>> Easy to Install
>> Fully Mechanical
>> Lightweight & Compact Design
DESIGN PARAMETERS
>> Nominal Pipe Size (NPS): any API Specification 5L pipe and wall thickness.
>> Service: Standard (i.e. crude oil, natural gas, hydrocarbons, water or chemical injection, etc.)
>> Design Pressure Rating: up to ANSI Class 2500, up to API Class 10000
>> Hydrostatic Test Pressure (min): 1.5 times Design Pressure Rating rounded up to nearest 25 psig
>> Design Temperature Range: 25º F (-4 ºC) to 250 ºF (121 ºC)
>> Design Life: 25 years
DOWNLOAD DOCUMENT